chinA

Add chinA as a friend

chinA will be notified and will have to accept this friendship request, to view updates from chinA and their ratings you must follow them.

Remove chinA as a friend



Lists
Recent reviews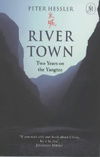 Posted : 7 years, 3 months ago on 6 April 2011 09:00 (A review of
River Town: Two Years on the Yangtze
)
Peter Hessler is my literary hero. He started as an English teacher in Sichuan and later became a famous journalist in America. He knows so much about China and has written 3 books about China in the past 10 years. His wife is Chinese and has written about Chinese factories. I met Peter Hessler at the Shanghai Literary Festival and he was very nice. River Town is a memoir about his experiences teaching English. Sometimes I can't understand all the words, but really it's a nice book. If you are planning to teach in China, I would suggest this book.

0 comments,
Reply to this entry
Posted : 7 years, 3 months ago on 6 April 2011 08:43 (A review of
CHINA: Portrait of a People
)
CHINA: Portrait of a People is my new favorite book about China. Even if English isn't your first language, the captions are very simple and easy to understand. This is a book of PHOTOS from all 33 provinces in China by Tom Carter. There are over 800 pictures in it!!! It shows a really good example of REAL life in China outside of the famous sites and big cities. Watch the video to see what some of the pictures look like. If you are interested in China, you'll want to have this book. If you are planning a trip to China, you'll need this book more than Lonely Planet because it SHOWS you many lovely villages and places that Lonely Planet didn't find. All Chinese must see this book, then you can truly know our China!

0 comments,
Reply to this entry
Music
Books
Comments